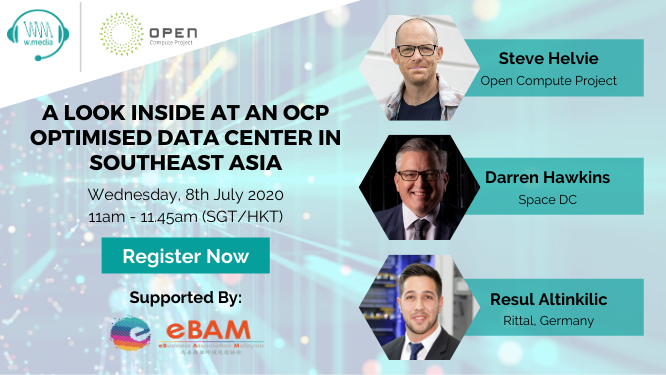 A Look Inside At An OCP Optimised Data Center In Southeast Asia
8th July, 11am - 11.45am (SGT/HKT)
Dear all eBAM members,

We are delighted to invite you to
join us
on 8th July 2020 to take a look inside at an OCP Optimised Data Center on how efficient rack designs lower the total cost of ownership, improves efficiency and reduces the amount of industrial waste.
The data center market has been growing to keep up with demands from rapid technological developments in
cloud computing
,
ICT infrastructure
and
digital societies
across Southeast Asia. Optimised data centers are becoming ever more crucial to meet these demands and enable cities to become smart and businesses to digitally transform.
Find out more on what it takes to become an
OCP Colo Solution Provider
and meet the optimised data center requirements of the
OCP Ready™
facility recognition program by signing up to our Digital Event!
Registration is required to secure your space for 'A Look Inside At An OCP Optimised Data Center In Southeast Asia'. Book your slot now. Take a look on the agenda here.
DIGITAL EVENT HIGHLIGHTS
An Overview Of The OCP Rack Efficient Design
OCP Ready Facility - An Introduction To An OCP Optimised DC

WHO SHOULD JOIN?
Cloud Service Providers, Telcos, Public Sector, Gaming Companies, Web Companies,
Head of Infrastructure, CTO, CIO, Architects, Hardware engineers, DC Operators